About Mamma Licia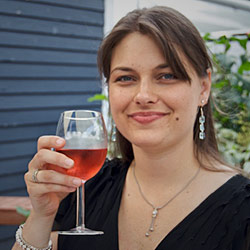 Ciao! I am Licia, a true Italian, who since 2001, has chosen America as my adoptive country. While I love the US, I have not forgotten my Italian roots. I grew up in Milano and went to college in Roma. I also spent considerable time in Napoli with my Nonna and my dad's side of the family.
There, my Nonna and I cooked up the most amazing and nutritious dishes with only the freshest local ingredients that were exclusively in season. She taught me to appreciate and savor the bounty that every month had to offer and how to create a menu with those ingredients. We shopped for food daily at the mercatino (year-round farmer's market), where we gathered fish, produce, nuts, grains and even oil directly from the producers. This early exposure to an amazing variety of flavors and smells instilled in me an immense respect for how I choose to feed myself and my family. Never a fan of fast food, by the time I was eight I'd regularly cook dinner from scratch for my mom and I. This was my time to experiment and be creative.
I am passionate about food. Whether I am cooking, eating or talking about it, my love for all things food is always clear. Cooking was always an integral part of my life and even though my college studies built on my strong language skills and took precedence over my cooking, I never forgot my first love.
When I came to America, I decided it was time to take this passion professionally. Along with my father we opened 'Solare', an Italian restaurant in NY. There, I honed my skills in its busy kitchen for the next 5 years. The everyday cooking of gourmet Italian food I was proud to serve was exciting and fun but also grueling and hard on my family. My husband's job transfer coincided with the birth of my daughter and a sorry goodbye to the restaurant.
Today, here in Salem, Massachusetts, I would love to share with you the 'slow food' approach I learned from my Nonna together with the professional restaurant tricks that can make everyday cooking simpler. I can show you how to prepare easy, healthy and delicious authentic Italian meals for the whole family using locally sourced produce, as well as how to create dishes using only a handful of choice ingredients, saving you time and money.